But that wasn't nearly the full story
Then came the puppies, that is. And ever since the first litter the pattern was clear: we're going to have boys. Salli gave birth to five males and one female puppy.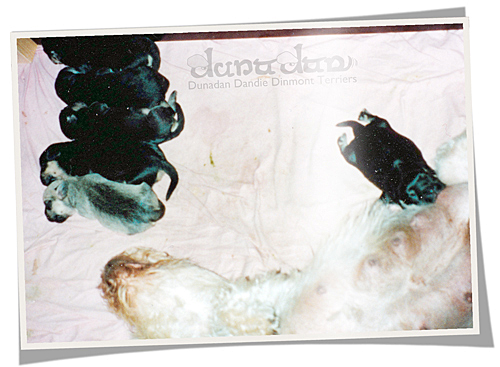 Already our second litter increased the number of dogs living with us, when we decided to keep the mustard dog Dunadan Fire-Balloon "PALLO". Over the years several dogs from our own litters have lived with us for varying periods, but a few others have stayed for good: mustard dog Dunadan Selfish Giant "KOLJA" and his pepper sister Dunadan Little Infanta "FANNI", mustard bitch Dunadan Princess Leia "LEIA" from our fifth litter, and then Dunadan Misakinu "MISA" from the sixth litter, and now there are her puppies running around the house. The largest number of "own dogs" we've had was 8... to see the current number look at the page Our Own Dogs.
When you have dogs, there's such a lot you can do with them, and we have tried out quite a few things. "Salli" went to Obedience trials and even completed the "Beginners' Class", Boxer "Arno" went to working trials, and some of our dogs have even shown that Dandies and Agility is not an impossible combination! "Veera" was probably the first ever Dandie to compete in Finland, but it's really her son "Kolja" who has been the most active in this field - and even if the results were nothing spectacular, he's always loved it and that's the main thing! We have also taken altogether 10 dogs (9 Dandies + 1 Boxer) to the Finnish "Character test".